Fax Server ArtiFax
ArtiFax is a network fax server with voice capabilities working as an automated system for receiving and sending faxes in a single company or within a cluster of company branches. Incoming faxes are received and routed to the internal users in accordance with the customized rules. Outgoing faxes are collected from the users and then centrally transferred to their destinations making the fax server a repository for all company faxes. Fax server works not only with pure fax files but also with voice and SMS messages. Network interactions between fax server and its clients are organized via IP sockets in online mode and via phone and email in offline mode. Email support is based on protocols SPTP/POP3 as well as on extended MAPI for connection to MS Exchange and Lotus Domino.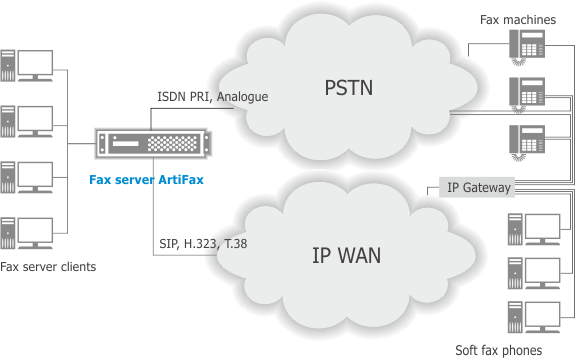 Main fax server features:
Email integration. Full integration with Email servers using POP3, SMTP and IMAP protocols for user mail and Extended MAPI protocol for corporate mail.
Database servers. Built-in support of any Microsoft SQL Server starting from 2003 and newer, any Firebird starting from 2.5 and newer database servers.
Users synchronization. Users can be imported from Active Directory.
Enterprise versions. It is possible to use several fax servers with one database and several independent fax servers.
Virtual printer. Faxes can be sent using "virtual printer" (PCL, PostScript or XPS) from any application under Windows x32 and x64.
Intellectual fax send handling. Intellectual handling of outgoing faxes, including priorities and schedule. Preliminary voice response handling.
Various file formats. Fax server can prepare outgoing faxes from many sources including all image, MS Office and Adobe Acrobat files. These files can be attached to email message and then sent to a fax server.
Fax notification. One fax can be sent to multiple destinations.
Address books. Fax server is able to work with different address books with both internal and external, connected to Active Directory, external databases or text files.
Backing up/restoring. Manual and automatic database backing up and restoring for all incoming and outgoing fax messages.
Notifications. Various notification methods for a new incoming or outgoing fax message: Email, phone, fax or SMS. The fax can also be printed or copied under new name.
Users grouping. Fax messages can be seen and handled by any user of a group.
Fax server can be described as a server software working on a real or virtual server with real or virtual expansion card and a client software. As a hardware lower layer can be used any Dialogic, Eicon, Brooktrout, Gammalink or Pika board, supporting analog or E1 ISDN line in PCI or PCIe form factor. Virtual boards are mere software based on Dialogic HMP and Pika AoH software, supporting SIP and H.323 protocols, G.711, GSM, G.723 and G.729 codecs and fax protocol T.38. Virtual fax server for SIP or H.323 does not require hardware and can be easily tested on a virtual machine e.g. VMWare.
Artifax can be supplied in several editions.
ArtiFax Standard is a standard edition. It is suitable for the most companies and consists of a single server and arbitrary number of clients
ArtiFax Business Edition has the same functionality as a standard edition but also has the ability to work with multiple servers and intelligent fax routing between different servers to reduce fax traffic.
We can give you a link to a demo version upon request.
For additional information, you can read PDF manual or download ZIP-file.