Voice broadcaster BroadsWord
Voice broadcaster system BroadsWord is an advanced phone, fax, email and SMS broadcasting system. It works with both telephony boards for analogue or ISDN PRI boards and Dialogic HMP software for SIP and H.323 lines. Voice broadcaster is needed to solve the problem of mass message sending to a large number of subscribers by phones, faxes, SMS and Emails. The server part of the system is running under Windows XP or higher (Win 7,8, 2008, 2012), both 32 and 64 bits OS are supported and provides all functionality of calling tasks management.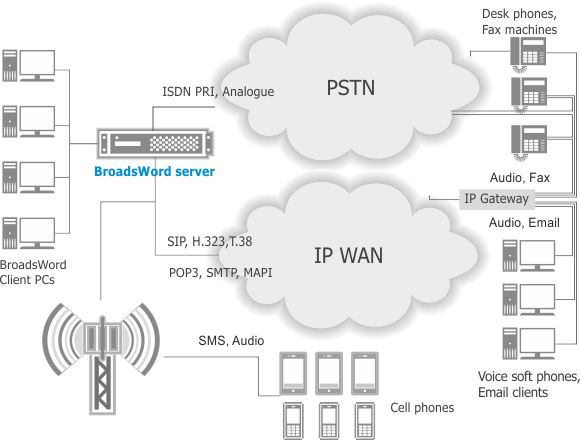 Main features of the voice broadcasting system (working algoritm):
Various line support. The system supports analog, E1, ISDN PRI, BRI, SS7, SIP and H.323 phone lines.
Various equipment support. The system supports Dialogic, Eicon, Brooktrout and Pika telephony boards.
A variety of notification methods. The system is able to broadcast messages using phones, faxes, SMS and Email.
Reliability. Long testing made the system very reliable to operate for months without restart.
Multiuser access. The system allows simultaneous access for Windows clients.
Scalability. The system is independent of the number of subscribers.
Easy to install and configure. User-friendly interface makes it easy to tune the system according to the requirements.
Task management interface. The system has intuitive mechanisms for task management and monitoring implemented on Windows.
Reporting. A user can prepare various reports, including full report with all subscribers attempts and brief report with subscribers list.
Data export. A user can export completed tasks or subscribers lists to a text or an HTML file with links to image or audio files.
Incoming and outgoing calls. The system can either make outgoing or receive incoming phone calls and can handle them with flexible algorithms.
Lines control. The system has a variety of methods to control the lines, including asynchronous listening and recording through the sound card.
Universal data import. A user can import data from third-party data sources, including databases and text files.
Integrability. The system can be easily integrated to any billing system using SQL queries.
Subscribers grouping. A user has powerful tools to automate and simplify working with groups of subscribers.
Combined messages. The system has built-in capabilities to create concatenated Voice, fax, email and SMS messages made of primitives that are sufficient for the vast majority of cases without using scripts.
Scripts. The system is able to play simple and complex scenarios for outgoing and incoming calls.
Email support. The system works transparently with any email protocol such as POP3, SMTP, IMAP and Extended MAPI.
SMS support. The system is able to send and receive SMS messages through cell phones, GSM gateways and SMPP servers.
Text-to-Speech support. The system can generate voice messages using text files, based on Microsoft SAPI engines.
We can give you a link to a demo version upon request.
For additional information, you can read PDF manual or download ZIP-file.